Funkylamb
No matter where you go, there you are.
Musings near the river.
Kaihalulu Bay Beach · Hana, Hawaii · January 2017
May 15th, 2017 -
It's great having the site up a running again.
I hope to be able to update on a regular basis.
Powered by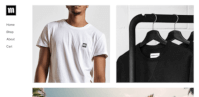 Create your own unique website with customizable templates.